2018 Incidents
Jan
8
Feb
5
Mar
15
Apr
6
May
14
Jun
10
Jul
46
Aug
14
Sep
0
Oct
0
Nov
0
Dec
0
Total
118
Past Incidents
2017
124
2016
128
2015
133
2014
112
2013
140
2012
144
2011
178
2018 Training Hours
Jan
233
Feb
279
Mar
187
Apr
339
May
363
Jun
241
Jul
0
Aug
0
Sep
0
Oct
0
Nov
0
Dec
0
Total
1642
Past Training Hours
2017
4063
2016
3635
2015
3841
2014
2699
2013
2591
2012
2265
2011
2379
Web Counters
Website Visitors
Since
June 7, 2011

Visitors Today
Aug 14, 2018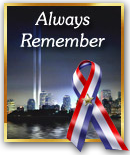 Firefighter Jack Spratt named 2017 "Shep Simmons Service to the Company Award" Winner
By Lieutenant Christopher Koretski
September 13, 2017
Firefighter Jack Sprat was presented the annual "Shep Simmons Service to the Company Award" during the September meeting. The award is named for past Assistant Chief Shepherd Simmons is given each year to a member who not only goes above and beyond the call of duty as a firefighter but, also serves as a guide for our younger members. Since joining in early 2017, Jack has proven to embody the spirit of Shep in guiding our members through training and incidents with our Marine Rescue Fleet. Jack never stops learning and is always looking to sharpen his skills on the boats and on the fireground. For these reasons and many others, Deputy Chief Jason Simmons, the son of Shep, presented the 2017 Shep Simmons Service to the Company Award to Firefighter Jack Spratt.
May the shepherd continue to watch over us all!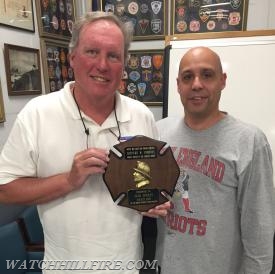 Firefighter Jack Spratt (Left) is pictured with Deputy Chief Jason Simmons after Jack was presented with the Annual Shep Simmons Service to the company award on 9/12/17.